The purpose of creating the Industrial Park includes the following components:

The main tasks of creating the Industrial Park are:
– creating favorable conditions for doing business for potential investors;
– restoration of the industrial potential of the city (creation of new productions);
– development of economic competitiveness;
– transformation of small and medium business into one of the main and budget-forming parts of the city's economy;
– creating a positive image in the international arena;
– growth of a qualitative level of cooperation with foreign partner cities; maximum expansion of cooperation spheres;
– significant increase in domestic and foreign direct investment in the city's economy.
The functional purpose of the industrial park is to build a modern industrial complex with a developed engineering and transport infrastructure, warehouses and administrative premises. The territory of the AzovAquaInvest Industrial Park provides for the creation of three industrial sites, each of which will house the main productions:
machine-building enterprises
light industry enterprises;
food industry enterprises.
The related activities may be processing of agricultural products, production of feed stuff and environmental fertilizers, cargo handling, logistics services, as well as the development and implementation of innovative technologies in agriculture, engineering, construction, food and chemical industries.
The following will be taken into account when developing the zoning of the park territory:
Location of production in accordance with the possible environmental impact, in similar zones, in order to minimize the impact on other areas of the park.
The size of the territories is typical for the location of enterprises of priority industries in accordance with this concept. Proximity to public logistics routes.
According to the Concept, 665 working positions will be created.
      AzovAquaInvest Industrial Park is located in the southern part of Mariupol and covers the area of ​​15.65 hectares.
General characteristics of the Industrial Park territory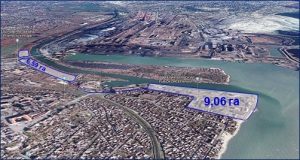 ---
Total area: 15,65 ha
---
Location of the site: 1, Konservna street, Mariupol city, Donetsk region
---
Land category: industrial land
---
Intended use: 
For the placement and operation of the main, auxiliary and ancillary buildings and structures of enterprises of the processing, machine-building and other industries
---
Transport infrastructure:
National highway: route of international importance (M 14) – 1.7 km
Railroad station: there is a railway branch on the territory of the land plot. Distance to the station "Mariupol – Zaliznychnyy" – 2 km
River/sea port: Mariupol Commercial Sea Port.  On the territory of the industrial park there are cargo berths, which are located in the eastern part of the park for maritime logistics.
Airport: distance to Mariupol International Airport 10.6 km (currently not working, considered in the future).
---
Type of land: «brownfield»
---
The term for which the Industrial Park "AzovAquaInvest" is created makes 30 years.